Rocky Mountain Jewgrass is what you get by blending the Bluegrass world of biscuits, cornbread and hush puppies with the Jewish world of pastrami on rye, potato latkes and a black and white cookie – a new and tasty brand of Jewish music we call JEWGRASS.
Since 2007, Rocky Mountain Jewgrass has brought a little picklin' and grinnin' and the high lonesome kvetch – and a whole lot of irreverent humor – to stages all over the US and Canada.
What the Levites at the ancient Temple in Jerusalem were to Jewish music 3000 years ago, as well as what Debbie Friedman and Shlomo Carlebach were to American Jewish music in the 20th Century, Rocky Mountain Jewgrass is becoming for today's lover of all things musically Jewish and Bluegrass.
SUMMER CONCERTS
Wednesday, August 2, 2017 we return to 4Mile Park for our annual outdoor family event with Swallow Hill's summer Shady Grove concert series. Tickets on sale here.
Sunday, August 13, 2017, we will be in Syracuse, NY.
Just One More!
Our new CD!
Just One More has all your favorite tunes (including Jews Don't Camp)
along with some new tunes that will soon become your favorites.
NOW AVAILABLE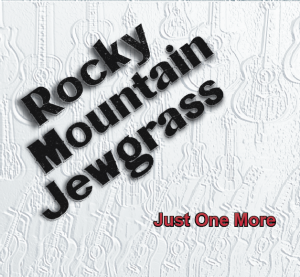 Our 10th Anniversary CD!
~~~~~~~~~~
 Rocky Mountain Jewgrass is the hippest,
coolest,
rocking-est
Jewish Bluegrass Band
of all time!
~~~~~~~~~~